Cheeky Secret #10
A Good Blog Header is EVERYTHING.
*
The other day, while walking into my children's school, I walked past five different women. The first tossed out a muffled hello as I walked by. The second glanced my way. She may have nodded her head slightly in my direction, but then again, she could have just been stylishly tossing her hair off of her forehead. Ladies number three, four and five didn't even bother to glance in my direction as we crossed paths.
*
By now, I'd reached the front door, stretched my hand out to open it, when a hand grabbed the door before I could and a cheery voice said behind me. "Here! I'll get that for you. I have to tell you, I saw you walking from all the way back there, and that necklace your wearing! It just caught my eye! It's gorgeous!" Stunned, I turned around and caught myself staring right into the face of some woman I'd never met. Her eyes were lit with happy energy, a smile donned her cheeks, her teeth stood tall and straight, saluting a friendly hello. Instantly, I warmed to her. I loved this woman. We had to be friends. Following her into the school, we chatted back and forth with comfortable banter until we moved our routine ways--me feeling significantly better about my day than I had just moments before I'd run into her merry little soul.
*
Your blog header is your greeting. How is it saying hello to your readers?
When new visitors arrive at your site, your blog header is the first greeting they get.
It tells them the tone of your blog, the content, the style, the personality.
I believe having a professional looking blog header is as important to attracting new readers as having a smart marketing plan. Of course, you've got to have rocking content and graphics to permanently hook a reader. But, that vital first meeting can be VERY swayed by the power of your header hello.
*
Here is an example. For several months, I've been in contact with a lovely Tongue-N-Cheeky reader, Patti. She's been the dear of all dears, emailing me often with words of support and encouragement. It's always a pleasure to hear from positive people.
*
Patti runs a really great blog with a really great title, "Anatomy of A Dinner Party." Doesn't that just ring in your heart? I was instantly impressed with her concept. The title was fascinating, it grabbed my attention, made me want to see what she was up to. But, when you visited her blog, the graphics suggested that she was fresh to blogger, learning her way around the program and posting. (Which is OKAY, we all have to start somewhere. That's for SURE!) Wanting to give her an extra boost with her fantubulous blog, and knowing what a difference a few good graphics make, I offered to create a header for her.
*
Notice the different ambience each header creates.
*
Anatomy of a Dinner Party
BEFORE....
Patti had worked diligently to set up her blog with a nice looking blogskin and a well-organized posting format. Her header consisted of a nice photo of a lovely dinner party (LOVE those centerpieces!) However, the photo was rather large, with the color being somewhat muted. Wouldn't it be nice to have a graphic that evokes all the refined splendor of a dinner party? Something that truly expressed the sound of "Anatomy of A Dinner Party" in a visual way? I played with a few ideas, then sent Patti a potential blog header, pending her approval. She was gracious-as-can-be upon recieving it, and put it in place immediately.
*
Here is the
Anatomy of A Dinner Party
AFTER the header makeover....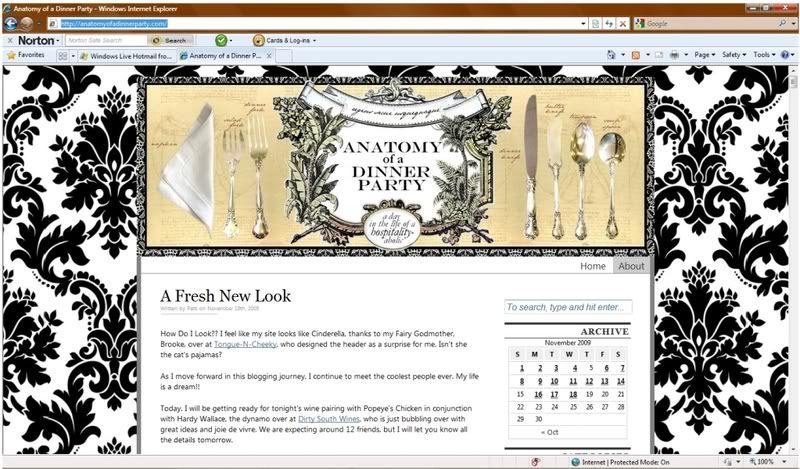 Isn't the difference remarkable?!
Before, Anatomy of A Dinner Party appeared to be a nice-looking operation.
Now, Anatomy of A Dinner Party looks like a high-end, finely stylized approach to blogging about truly sumptuous, thoughtful parties. (Which, by the way, is exactly what it is! Go Patti!)
*
So, how do you go about getting a fabulous header of your own?
First, Create one.
There are many programs that will allow you to create a nice-looking graphic, but I'd suggest using my favorite, free software
PHOTOFILTRE
.
*
Second, Hire someone.
Many blog design companies will customize blogskins and blog headers, but (in my experience) such services will run you more than $100 a pop. Which is why I'm excited to announce that, for a limited time, I am creating customized blog headers for only $35!
A good blog header is too important to have, and not easy enough to come by. I simply can't bear to insist of the importance of a nice blog topper, without offering some sort of feasibly affordable option.
*
If you are interested in having me design a header for you,
please email me at
BeCheeky@q.com
and Ill start working on your header immediately. The turnaround time for a custom header is about 1 week. Yayhoo! That means you're only seven days away from look blog-fabulous!
*
Three, Win One.
That's right! Win! Win! Win!
Leave a comment on this post for a chance to win one free
Cheeky Secrets Custom Blog Header
for the blog of your choice.
*Header will be designed and emailed to you in jpg. and/or gif format, which you can then upload into your blog account. I'll do the designing, you do the uploading and we'll all do the happy dance!
*
Happy Blogging!